20 Holiday Gift Ideas for Travelers in 2021
*This post may contain affiliate links, which means I may get paid or receive a commission at no extra cost to you if you purchase anything through my link! Read more about it here*
It's that time of year again where everyone starts to buy their gifts for the holidays. You can never start too early for the holiday season. Have you thought about what to get for those people in your life that love to travel? If not, then here are the top 20 holiday gift ideas for travelers for 2021.
Polaroid Lab – $130
The Polaroid Lab is such a cute and fun way to print out your travel pictures! If you're looking for a vintage 80's to 90's look, then this is the product for you! And unlike those polaroid cameras, you don't have to take this out and about on your travels.
Just take pictures on your phone as normal. Download the app, then print out the pictures you took! It's that simple and I can't recommend this product enough.
GoPro Hero 9 – $400
The GoPro Hero 9 is a small, portable, and great camera to take with you. If you're into adventure traveling, or being around water in general, this is an awesome camera to have! It can hold up to any type of travel you do, plus it's waterproof and has amazing camera and photo qualities. Perfect for travelers.
Sony RX100 VII – $1,298
The Sony RX100 VII is my main vlogging camera. I know there are other cameras like the Sony ZV-1 and the alpha line that people love to use for vlogging. Or, the tried and true Canon G7X camera which everyone loves. However, I decided to be the black sheep and buy a completely different camera from the aforementioned ones. I have to say, I'm very proud of my choice.
The film quality of the Sony RX100 VII camera is amazing! Super clear, autofocuses without any problems, 4K capabilities, and it's super small and discrete. I love using it for vlogging and travelers need to have this in their life!
DJI Pocket 2 – $353
Now, I mentioned this little camera in my Top Amazon Travel Essentials of 2021 post. The DJI Pocket 2 is a small but mighty little camera that's perfect for discrete vlogging or filming. It doesn't draw much attention to the user because of its size.
It has built in gimbal stabilization, 4K shooting, photo capabilities, and so much more! I love this camera for vlogging on my travels and that traveler in your life will love it too. A great gift for those who love capturing videos and pictures from their travels but want something easy and lightweight to take with them.
Related Post: Top Amazon Travel Essentials Of 2021
Noise Canceling Headphones – $349
These Sony WH-1000XM4 Noise Canceling Headphones  are awesome for canceling out background noise. Whether you're flying on a plane, in a loud cafe, or on a scenic train ride, it's great to have the ability to cancel out background noise.
Eagle Creek Global Companion Backpack – $159
I have the women's version of this backpack because I'm a small female and need the narrower shoulder design. However, this is the unisex version of the Eagle Creek Global Companion Backpack. What makes this backpack cool is that it opens out like a clamshell style suitcase.
You can fit items into both sides and close it up as if it was a suitcase. Plus, since it's 40L and the dimensions are within most airline carry-on allowance, you can use it as a carry-on item. This makes minimalist traveling easy, because you don't have to pay extra money for any checked bags. Just ensure it meets the weight requirement for your airline and you're good to go.
I've used this backpack for the past year on most of my travels. It fits everything I need for my travels. I wouldn't trade it for any other backpack.
Travel Scrapbook
What better way to showcase memories and stories from traveling than through a scrapbook! These are super fun and cute books you can custom make for anyone. You can put your favorite pictures from your travels, plane or train tickets, stubs, whatever it is that has memories into a scrapbook.
This is the scrapbook I started making earlier this year. I love putting together a little collage of the pictures I took on my travels. I use the Polaroid Lab  to print out pictures from my travels, stickers I bought from Michaels, and arrange them in a way that's cute and fun. You can do the same and gift it to someone who loves to travel!
The Adventure Book – $56
Now, Instagram is responsible for why I have this in my collection. When I found this, I thought it was such a cute and very organized way of illustrating or describing your travels. Basically, The Adventure Book is a book that has all of the countries listed in the world, plus territories and other locations as well. It's alphabetized and each page has about two countries on it.
What you can do is find the country you visited and either write or draw what happened on your trip. Or, you can glue tickets or anything you'd like that you kept while traveling. If you're not into creating your own scrapbook, then this is the way to go. You can gift this to someone and they can fill it in without any hassle.
Geopress Water Bottle – $90
The Grayl Geopress water bottle is essential when traveling, especially when you're doing outdoor activities like hiking, camping, or fishing. This is a filtering and purifying water bottle that allows you to safely drink water. It filters out the bacteria, viruses, Protozoa, and other particles from your water.
You can use this with tap water, from a clean river, anywhere that has a clean water source. So, if you're out hiking and stumble upon a little creek, use this water bottle to purify and filter the water so you can drink it. I like to keep this bottle on hand for when I'm hiking, or doing any activity, where I'll need to refill my water bottle. And I don't have to worry about any harmful things in my water if I use it from the tap or elsewhere.
Phone Camera Lenses – $45
How can you say you've visited a place if you don't have any pictures to show for it, right?
What you can do is gift someone a phone camera lens. These lenses enhance and expand the visual capacity of your phone's camera. You can get different types of lenses, just like you would with a traditional camera. Instead of buying a whole camera and lens, you can buy these little clip on phone lens. They do the job and you can get better pictures.
Just know that this isn't going to increase the quality of a photo, just the focal length or angle of view of the photo. Phone cameras can only get but so much of an area. These lens help the camera out by increasing that angle view to get more into a picture.
Related Post: 15 Holiday Gift Ideas for Travelers
Fanny Pack – $29
Having a fanny pack is just a smart way to travel. Fanny packs are great for any type of traveler, because it's small and can fit your essential items. In addition, you can keep this in front of you so your items aren't stolen. It's just a very discrete but functional item to travel with.
Eye Mask – $10
For travelers who travel to hostels, on planes or trains with a lot of light, it's difficult to fall asleep. However, if you have an eye mask on hand, you'll have an easier time falling asleep. Or, at least blocking out some of the lights from your environment.
Ipad Pro – $1,199
The 2020 iPad Pro is a great gift to give to a traveler. Although it is on the expensive side, the iPad Pro is like a mini computer. You can type up documents, PowerPoints, spreadsheets, you can even edit on the iPad! In addition, you can connect an external hard drive and work off that as well, just like a computer.
Meaning, that you have the power and capabilities of a computer. It's like having a miniature version of a laptop. This is great if you're a blogger, vlogger, digital nomad, or just working in general while traveling. So, you don't have to miss a beat with your work.
Laptop – $999
If you're a digital nomad, a blogger or vlogger, then you know the importance of having a good laptop for your work. This 2020 Macbook Air is very pricey, however the battery life and performance is awesome. Wherever your travels take you, you're covered with any type of work that you have to do on the go.
Luggage Scale – $9
Having this small little gadget on hand is great if you're taking heavy bags on your travels. We all know that airlines have specific weight allowances for your luggage. The worst part is arriving at the airport, weighing your bag, and finding out that you're over the weight limit.
To avoid a situation like this, you can gift that frequent traveler a luggage scale. That way, they can weigh their luggage before hand to ensure they're within the weight limits of the airline.
Travel Padlocks – $21
Padlocks sound very weird to gift someone for the holidays but I guarantee you, you can't go wrong with this. When traveling, whether it be to a hostel, hotel, a park with lockers, having a padlock on hand is a life saver. You can safely and securely lock your item(s) away so the likelihood of it being stolen decreases. Also, since this is so small and light, you can fit it anywhere and take it with you on your travels.
Travel Journal – $22
If you know someone who is into writing or drawing, then gifting them a travel journal this holiday season is the way to go. Sometimes, travelers need something to help express their thoughts, feelings, and ideas. So many travelers get a travel journal.
With this travel journal, a traveler can jot down anything and everything that comes to mind while they're traveling. A simple but powerful gift to give for the holiday season.
Power Bank – $27
Having a portable power bank is crucial for your travels. You never know when you or someone you're traveling with might need to charge their electronic device. Never again will you have to worry about your phone or device running out of battery. Simply carry this power bank with you, plus the USB cable for your device, and you're all set.
It's such a simple but practical holiday gift that all travelers need for their travels.
Ridge Wallet – $85
The Ridge Wallet if a great holiday gift to give to everyone. This wallet is very small, minimalist, and light to carry around on any type of travel. Meaning, you can fit up to 12 cards, and cash, without it bulking out or being heavy. One of the best features of this wallet is the RFID blocking technology. You don't have to worry about any of your credit or debit card being read by RFID chip readers. Perfect for any type of traveler no matter how close or far they go.
Hiking Boots – $90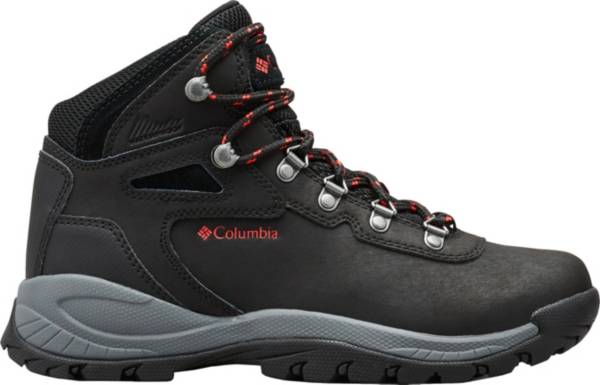 Last but not least, every traveler needs a good pair of hiking boots. It's a great gift to give someone for the holidays, because they can use them for any type of hike. The hiking boots I have, this Colombia Women's Newton Ridge Plus Mid Waterproof boots, are awesome. Don't worry, there's a men's version of these boots as well! Not only do they provide great support for your feet and ankles, but they're also waterproof and very sturdy.
Especially when going over rocky or uneven terrain, these hiking boots are essential for your hiking adventure.